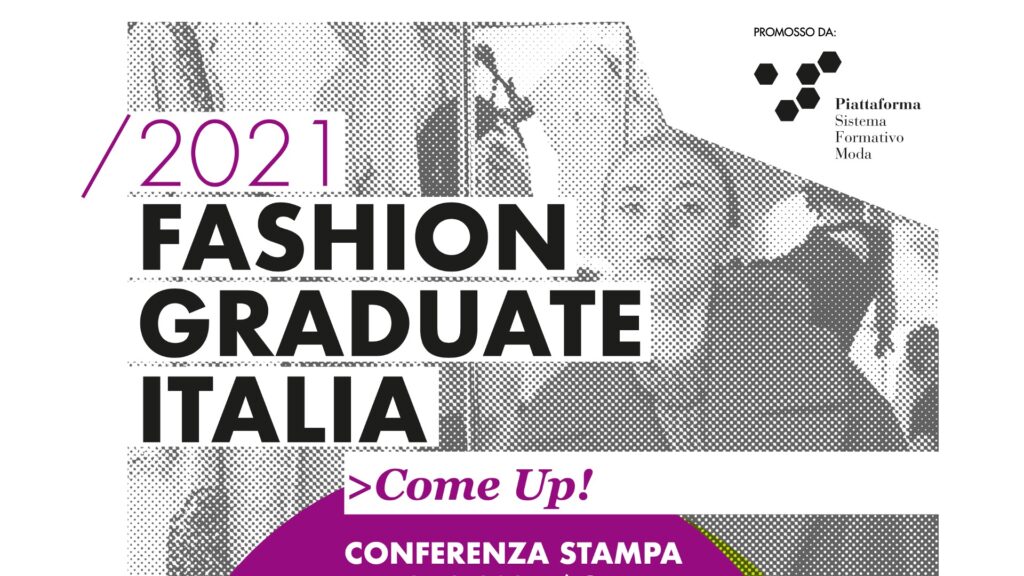 Giovedi 1 luglio 2021 si terrà a Milano, presso Palazzo Reale, la conferenza stampa per presentare la settima edizione di Fashion Graduate Italia, la prima e unica fashion week gratuita aperta al pubblico, promossa dall'Associazione Piattaforma Sistema Formativo Moda, di cui Next Fashion School fa parte, e dedicata ai migliori studenti diplomandi e laureandi di Accademie, Istituti e Scuole di moda italiane.
L'evento avrà luogo dal 24 al 26 ottobre al Base di Milano e in streaming, attraverso quattro giorni di sfilate, esposizioni, talk, masterclass, workshop e job placement.
Il format phygital , che combina eventi fisici e digitali, celebra e sostiene la moda italiana attraverso le collezioni dei giovani talenti, il titolo FashionGraduateItalia2021|ComeUp! è un invito, una spinta a uscire e ad emergere, suggerisce un'idea, è un'esortazione a fare, a non restare fermi a guardare, è energia e colore con un punto esclamativo!
I contenuti in presenza (sfilate; talk; workshop; Job Speed Date -in collaborazione con Confindustria moda e con Umana-) verranno trasmessi in streaming sul portale di Fashion Graduate Italia e sulla piattaforma di Artsthread, per raggiungere un pubblico sempre più ampio anche a livello internazionale. Sono, inoltre, previsti nuovi contenuti digital- The making of- the Fashion Graduate Italia 2021- prodotti dagli studenti delle scuole partecipanti che, insieme alle sfilate, potranno mostrare il talento, le soft skills e le competenze acquisite nel proprio percorso di studi.
Fashion Graduate Italia 2021 – Come Up! ha ricevuto il patrocinio dell'Assessorato a Politiche del lavoro, Attività produttive, Commercio, Moda e Design del Comune di Milano.
REKORDATA Srl, azienda specializzata in soluzioni tecnologiche per il mondo business ed education, è Main Partner di Fashion Graduate Italia 2021 Come Up!. L'evento è sostenuto anche da Lineapelle, CNA Federmoda Lombardia, dai Media Partners Next Generation Platform – Campus Orienta, Yes Milano e MF Fashion, e dai Partners tecnici BASE Milano e Fashion&Casting producer – Bookin' Agency.
Scuole partecipanti a Fashion Graduate Italia 2021 Come Up!:
Accademia Costume & Moda; Accademia della Moda IUAD; Accademia Euromediterranea HARIM; AFOL Moda; Arsutoria School; Cercal; Domus Academy; Ferrari Fashion School; IAAD, Istituto d'Arte Applicata e Design; Istituto Europeo di Design, IED; Istituto di Moda Burgo; Istituto Marangoni; Istituto Modartech; Istituto Secoli; NABA, Nuova Accademia delle Belle Arti; Next Fashion School.
Segnatevi le date di ottobre per incontrare i nuovi talenti della Next Generation!