Next Generation Lab ha preso parte a Fashion Graduate Italia 2019
lunedi 28 ottobre 2019 al BASE in Via Bergognone 34 MILANO, i diplomati Next hanno mostrato le loro Capsule Collections.
NEXT GENERATION LAB
By Next Fashion School
La Next Generation è addestrata per interpretare avanguardie, decifrare flussi artistici, di design, di pensiero; ispirazioni che come bagliori producono creatività e idee di stile.
La Next Generation è formata con tecniche collaudate e sempre in evoluzione, si destreggia con virtuosismi modellistici divertendosi a plasmare forme e volumi.
La Next Generation crea, realizza I propri pensieri rendendoli prodotto.
Next Generation Lab è la culla delle visioni e dei progetti di Next Fashion School
Next Generation Lab ha sfilato a Fashion Graduate 2019 con:
Giorgia Manente da sempre innamorata della moda mostra la sua Ready to Jump, un inno allo street style in chiave hardcore. Gli outfit mixabili e indossabili in diverse opzioni celebrano la versatilità di pensiero e di atteggiamento sportly.
Giacomo Tomassoni la passione per il fashion design nelle vene, presenta It's all about pockets", una collezione che esalta l'utility concept attraverso linee sportswear oversize che si sovrappongono a capi stretch activewear, il focus è sulle tasche, stilose e protagoniste.
Martina Bagli con radici di formazione accademica, mostra la sua passione per la moda con Plis, un omaggio alla versatilità e al movimento dei tessuti plissettati, amati sia per il giorno che per la sera in tenui sfumature neutre.
Camilla Vernia amante delle novità di stile ha creato una collezione, The New Tailoring concept, che esalta la cura e la raffinatezza della sartoria, sempre più amata e ricercata dal pubblico. Blazer calibrati abbracciano morbidi plissè che sottolineano le forme.
Letizia Guicciardi aspira a diventare una Fashion Designer e presenta Bubbles, una capsule collection che attinge dal Rinascimento i contorni romantici e la severità del tempo per interpretarli con la forza dell'avanguardia di tessuti e tagli attuali.
Sophia Bolsi laureata, votata ad una carriera modellistica, presenta New Heritage, un connubio tra forme e volumi accentuati che rievocano i fasti del passato e declinazioni underground.
Federico Del Ristoro in arte Derry, cresciuto in ambienti modaioli propone Derrynascimento, i fasti cinquecenteschi giocati in chiave post apocalittica che figurano un dark concept ricco di suspense, maniche della camicia di forza come dettaglio cool.
Il video della sfilata è disponibile nel nostro canale YouTube a questo indirizzo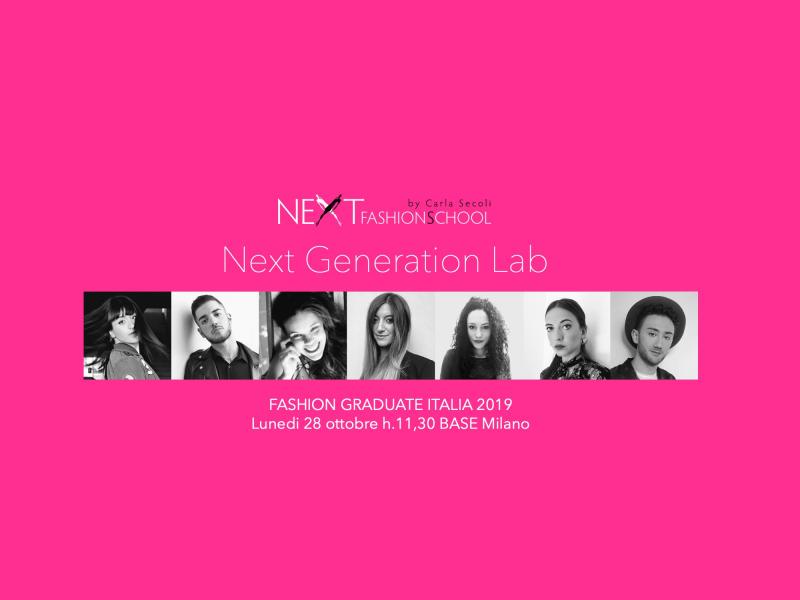 Nello stesso giorno tre studenti Next hanno partecipato alle Sfilata collettiva sulla sostenibilità.
Next Fashion School ha sfilato a Fashion Graduate Italia 2019 in
Sustainable Visions con:
NEXT VIEW
Sostenibilità come produzione rispettosa, scelte oculate, riutilizzo e riciclo.
Tra i molteplici fattori sui quali fare leva per sensibilizzare il pubblico, Next Fashion School sfila con outfits composti da elementi in materiali organici con finissaggi non inquinanti, mixati a scarti di produzione e plastiche riutilizzate in nuova veste.
Manifattura di Domodossola che ha fornito parte dei materiali, produce cuoio vegetale tinto ad acqua e cuoio rigenerato derivato da scarti del cuoio stesso.
Le modelle hanno indossato bracciali di Athison, realizzati con plastica riciclata, lo scenario è creativo, ironico, sensoriale e gioca su volumi e linee in libertà compositiva.
Protagonisti:
Eugenia Santandrea
Giorgia Callegaro
Giorgia Verdolini
Il nostro grazie a: