E' giunta al termine l'edizione 2022 di Fashion Graduate Italia, la prima ed unica fashion week gratuita con accesso al pubblico, organizzata dall' Associazione Piattaforma Sistema Formativo Moda, di cui Next Fashion School fa parte, dedicata ai migliori studenti diplomandi e laureandi di Accademie, Istituti e Scuole di Moda italiane.
Si è tenuta nei giorni 3-4-5 novembre 2022, al Base di Milano; anche per questa edizione il formato è stato phygital, un mix di eventi fisici e digitali, attraverso tre giorni di sfilate live e trasmesse in streaming sul sito ufficiale di Fashion Graduate Italia, esposizioni, talk, masterclass, workshop/lecture e job placement.
Il titolo ufficiale è FashionGraduateItalia2022|Stay Curious! perchè la curiosità è il carburante delle menti creative, ciò che stimola le progettazioni più riuscite e l'energia che non deve mai mancare quando si parla di moda.
Next Generation Lab -il gruppo selezionato della Next Generation- ha presentato 9 capsule collections declinando ed interpretando il concept di "#hereandnow"; abbiamo avuto il piacere di incontrarvi presso il nostro spazio espositivo nell'area booths nel quale hanno riscosso molto successo gli outfit di Federica Alessi che hanno sfilato ad AltaRoma con CNA Federmoda.

Grazie a tutti coloro che hanno reso così speciale ed emozionante l'edizione 2022 di Fashion Graduate Italia, per il prezioso contributo di: studenti, docenti, staff Next, organizzazione/ staff Piattaforma Sistema Formativo Moda e Fashion Graduate, scuole partecipanti, pubblico!
I PROTAGONISTI
NEXT GENERATION LAB 2022

La NEXT GENERATION (in ordine alfabetico)
Hana Abdollahi
Federica Alessi
Maria Chiara Basso
Vanessa Becker
Veronica Colpo
Chiara Dubini
Francesca Giovannini
Giulia Lucarelli
Sara Monticelli
Emmanuella Yaa – Serwah Ofori – Atta
Silvia Perugini
Tomas Pirazzoli
Sofia Ricci
Giada Ripari
Sofia Santi
Irene Scrivano
Virginia Venturi
Filippo Verzè
The making of  Fashion Graduate Italia 2022
Far parte della Next Generation non significa solo appassionarsi alla ricerca, dar vita alla creatività ed utilizzare tecniche di costruzione collaudate e versatili.
Significa soprattutto divertirsi e giocare con i propri limiti per abbatterli: quando si conoscono gli strumenti si è preparati per qualsiasi virtuosismo di stile.
Federica Alessi, Sofia Ricci e Filippo Verzè mostrano l'essenza della Next Generation, estro creativo, desiderio di mostrare le proprie idee e sorrisi per esserci riusciti.
Puoi visionare le clip dei Making of di tutti gli studenti partecipanti a FGI direttamente su Instagram, nelle storie in evidenza sull'account ufficiale di Fashion Graduate Italia.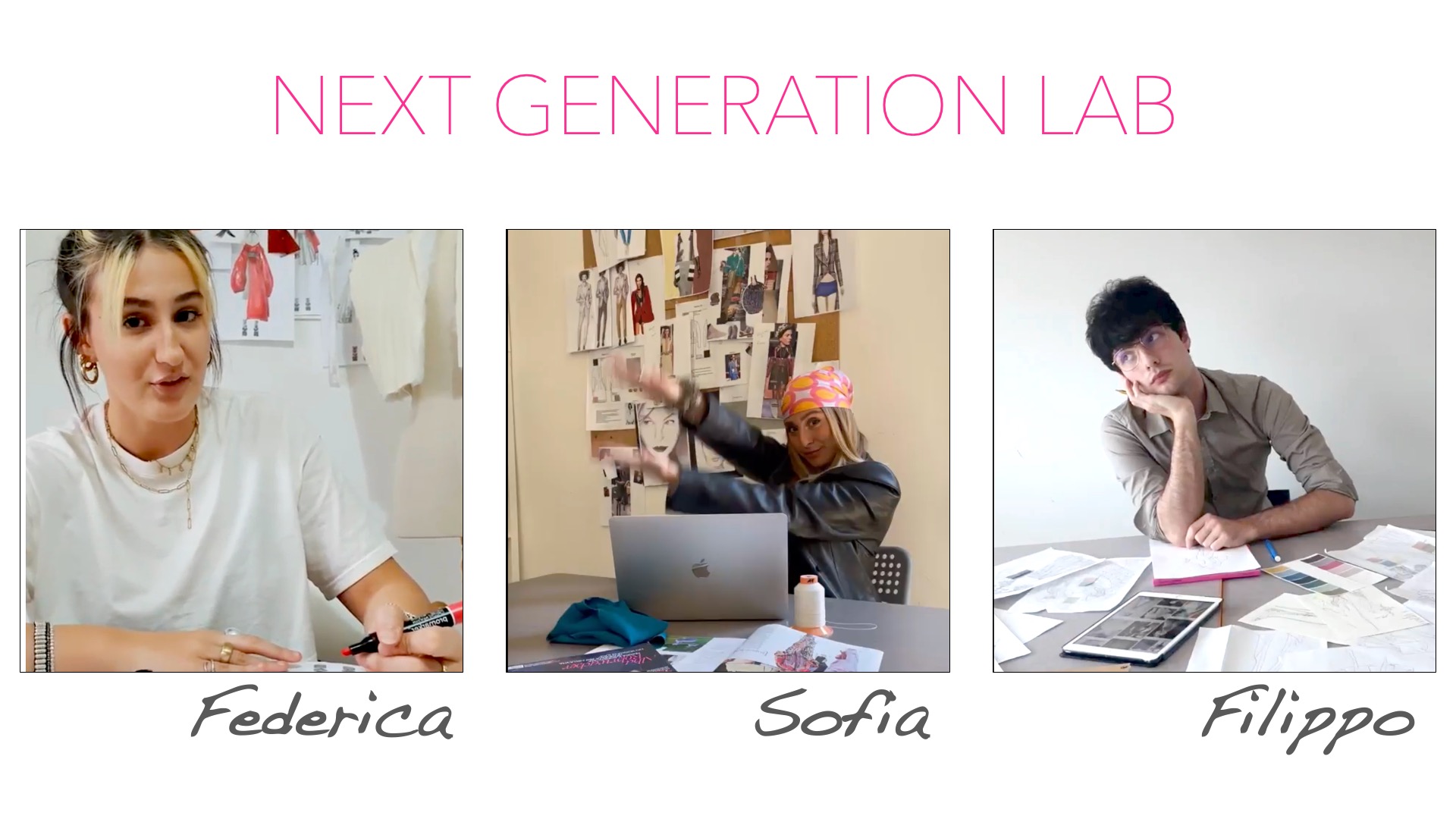 CARIFIA, il progetto di Next Fashion School per
"FASHION SCHOOL FOR DESIGN – DRIVEN SUSTAINABLE INNOVATION"
in collaborazione con C.L.A.S.S.
Piattaforma Sistema Formativo Moda Ente del Terzo Settore, in occasione di Fashion Graduate Italia 2022 ha presentato un progetto in partnership strategica e con il supporto dell'eco hub internazionale  C.L.A.S.S. (Creativity, Lifestyle And Sustainable Synergy) dedicato agli studenti delle scuole di moda che hanno aderito all'evento.
Il progetto "Fashion Schools for design – driven sustainable innovation" ha visto gli studenti coinvolti in un percorso formativo dalla progettazione alla realizzazione di un outfit secondo un approccio responsabile che parte dal design, passa dalla scelta di materiali sostenibili forniti da alcune delle aziende partner dell'hub per approdare ad un pensiero sulla comunicazione del proprio progetto.
Le creazioni proposte dagli studenti ( coordinate da Olivia Spinelli e Camilla Carrara) sono state protagoniste di uno speciale allestimento in un'area dedicata, per l'intera durata della manifestazione.
Con il progetto "Fashion Schools for designer driven sustainable innovation" C.L.A.S.S. e Fashion Graduate Italia desiderano promuovere un dialogo innovativo tra moda e sostenibilità che metta al centro le nuove generazioni di designers e la condivisione di percorsi educativi che li accompagnino verso nuovi percorsi valoriali.
Per Next Fashion School, Federica Alessi e Sofia Ricci hanno creato CARIFIA.
CARIFIA è l'insieme di alcune lettere contenute nei nomi delle due creative -Federica Alessi e Sofia Ricci – che rappresentano la Next Generation per il progetto FASHION SCHOOLS for DESIGN-DRIVEN SUSTAINABLE INNOVATION, promosso da Piattaforma Sistema Formativo Moda insieme a C.L.A.S.S. e inserito in Fashion Graduate 2022.
E' il nome di un pianeta virtuale, collocato nel Metaverso, che aiuterà gli abitanti della Terra a riprogrammarsi, rieducarsi e ritornare in simbiosi con la natura e l'ambiente; CARIFIA è il luogo digitale nel quale ci si addestra ad amare il reale pianeta Terra per poter vivere in sostenibilità e amore per la culla che ci ha creati.
Carifia ha i colori caldi delle sfumature terrestri, ha i colori azzurrati dei cieli e delle acque, si vive con ritmi adeguati all'uomo, si vive rispettando ciò che ci circonda, equilibri e stabilità diventano elementi essenziali. L'outfit è funzionale, senza costrizioni, protegge ed agevola una vita pratica in sintonia con i colori dell'ambiente.
Carifia è lo strumento per aiutare e sostenere la Terra.
I capi di Carifia sono stati realizzati con i tessuti forniti dalle aziende Berto e Brunello
IL NEXT FASHION SHOW PER FASHION GRADUATE ITALIA 2022

#hereandnow
Il QUI e ORA come mantra di equilibrio, il bilanciamento tra gli opposti diventa nuovo concept d'ispirazione.
Le analisi sociologiche sul consumatore mostrano che ognuno cerca il perfetto equilibrio per vivere phygital, giostrando la propria vita tra situazioni in contrasto ma che si integrano con fluidità.
ON/ OFF accendere le interazioni digitali per condividere, per servizi e per esperienze, spegnere le connessioni per ritrovare calma, quiete, meditazione, rapporti umani.
INDOOR/OUTDOOR vivere la casa, come culla performante e fare rete con la comunità esterna, attraverso interazioni sicure.
Vivere gli spazi esterni per immergersi nello scenario naturale, apprezzandone la materialità.
#hereandnow si compone della visione poliedrica delle capsule collections
1-color block life
2-endless denim
3-move in time
4-look through
5-silver era
6-earth energy
7-evanescent
8-opposite vibe
9-east flavour