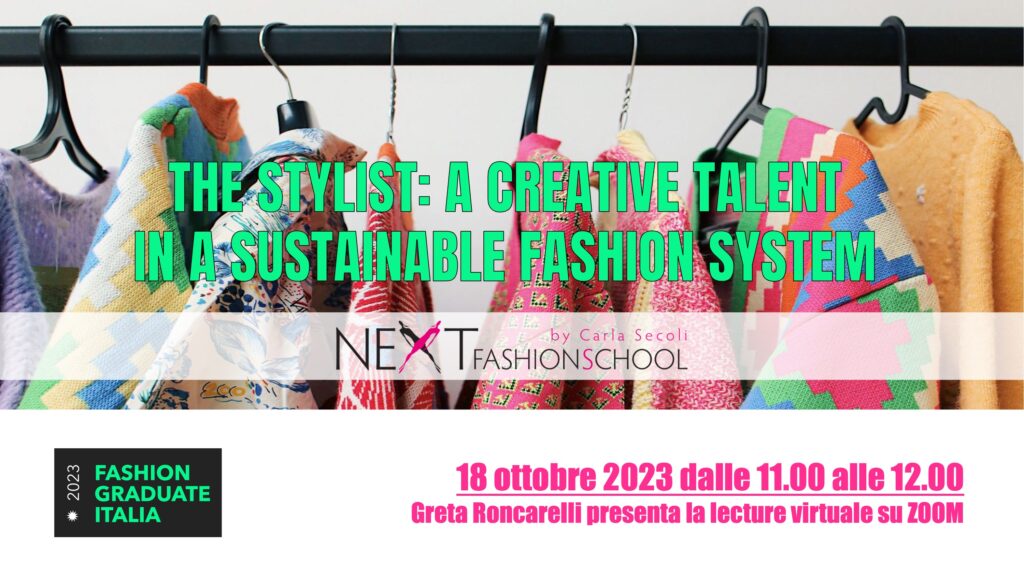 Next Fashion School ti invita ad iscriverti alla lecture del 18 ottobre 2023 inserita nel programma di Fashion Graduate Italia 2023 I Do You Remember The Future?
The stylist: a creative talent in a sustainable fashion system
Greta Roncarelli, docente in Fashion Styling di Next Fashion School, fornirà ai partecipanti un'ampia panoramica sulla figura dello Stylist e sul ruolo centrale che negli ultimi anni ha assunto all'interno del Sistema Moda.
Figura professionale relativamente recente e pienamente inserita all'interno dei principali processi produttivi della filiera (le collaborazioni tra Stylist e Art Director sono ormai realtà attestata), lo Stylist oggi è sempre più determinante nella Comunicazione di Moda: la sua expertise è perfettamente in linea con l'attuale imperativo di ecosostenibilità.
Dai primi canali e-commerce fino all'attuale fenomeno del Social Commerce, lo Stylist ha infatti un ruolo chiave in questo nuovo mondo digitale: primo detentore di competenze in fatto di storytelling e di "remix creativo", è la figura in grado di raccontare al meglio capi sia recenti che d'archivio, generando nuove identità nel rispetto di un approccio sempre più etico e circolare.
La lecture si svolgerà su piattaforma Zoom
18 ottobre 2023 dalle ore 11 alle ore 12